Make the most of your shopping experience by creating
an account. You can:

Access your saved cars on any device.
Receive Price Alert emails when price changes,
new offers become available or a vehicle is sold.



Not registered? click here
Contact Us
What Can McLaren North Jersey Help You With Today?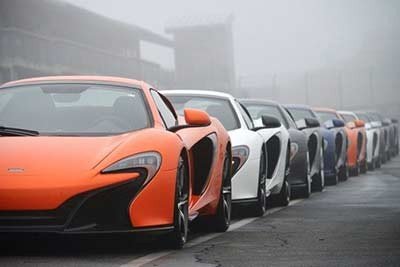 McLaren North Jersey
995 Route 17 South
Ramsey, NJ 07446
Showroom (201) 639-7750
Interested in learning how to upgrade your automotive situation? Then you will be pleased to know that the McLaren North Jersey team is excited to utilize their skills and expertise to help you plan out the best path going forward. From offering up some help as you dig into the abundance of great McLaren cars available at our lot to setting up your next required service, there is no denying our committed staff of professionals is more than capable of providing the help you need to tackle these tough decisions.
Ready to learn about which team has what you are looking for in your next visit to McLaren North Jersey? Then go ahead and join us as we point you in the right direction and help you forge a connection with the appropriate team of certified McLaren North Jersey professionals.
We Have Your Sales Needs Handled
When it comes to new and pre-owned vehicle sales, our sales department is clearly second to none in the Ramsey area. From bringing you up to speed with all of the latest offerings from McLaren to putting you on track for the right pre-owned automobile (be it a Certified Pre-Owned McLaren or an offering from another automaker) that fits your unique needs and fiscal considerations, we can set you up with all the overview you need to make a correct choice.
201.639.7750
The best part about connecting with our sales department? Our professionals take the time to always give you the help you need to make the right call for you and your family. Only when you feel confident enough in your search to press ahead will we give you the assistance necessary for you to take the next step.
Ready to Enjoy the Highest-Quality Automotive Service in Ramsey? Then McLaren North Jersey Is Your One-Stop Shop
Whether it is time to tune up your engine or you need a little help sorting out your car after an unexpected collision, McLaren North Jersey wants to make one thing clear: We are the leading name in outstanding service that is expedient, easy on your wallet, and always conducted by certified McLaren mechanics.
201.639.7750
Do you have an automobile that is from a different automaker? Then that is not an issue. The welcoming group of automotive repair professionals here at McLaren North Jersey is dedicated and prepped to handle your service needs – regardless of the make and model of your vehicle.
Our Parts Team Is Here to Serve You
For those of you who are looking to tackle a repair on your own, you will be excited to hear that our committed team of parts advisors can help you get the part you need in a hurry. From original equipment manufacturer (OEM) McLaren parts to a vast inventory of other offerings that can help you square up a repair or service on virtually any vehicle possible, we have no doubts what you need is waiting for you right now at McLaren North Jersey.
201.639.7750
That being said, we provide you with so much more at McLaren North Jersey than mere access to the most expansive inventory of McLaren OEM parts in Ramsey. By stopping in at McLaren North Jersey, you will also have the chance to make the most out of the best prices in town, in addition to a steadfast commitment to inviting and no-hassle service.
Have Something Else You Would Like to Talk About? We Would Love to Hear It
Did we miss something? Then give us a call! McLaren North Jersey is more than happy to receive input from our valued customers, so go ahead and give us a call if you have any questions, comments, or concerns that you want us to handle. We will be prepared to give you as much insight and information as possible as we assist you in taking care of whatever concern is currently on your mind.
201.639.7750
Now that you are well versed on the most effective ways to connect with the McLaren North Jersey team, as well as what each of our departments has to offer to respected customers such as yourself, you only need to do one more thing: Give us a call! We look forward to connecting with you soon and ensuring your next visit to McLaren North Jersey is beyond compare.