Make the most of your shopping experience by creating
an account. You can:

Access your saved cars on any device.
Receive Price Alert emails when price changes,
new offers become available or a vehicle is sold.



Not registered? click here
McLaren North Jersey — Staying Ahead of the Sports Car Competition in New York
McLaren North Jersey — Staying Ahead of the Sports Car Competition in New York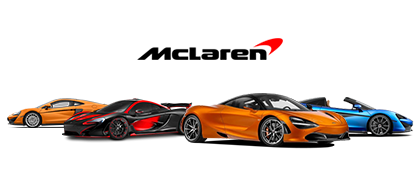 At McLaren North Jersey, our select automotive professionals consider it a top priority to impeccably bring together the thrill of driving a high-performing McLaren with the unsurpassed reputation of delivering first-rate service to each client in Ramsey. This commitment equates to you always receiving prompt assistance from the moment you walk through our doors and convenient access to the latest selection of premium sports cars on the market.
Shifting into next gear, our frontrunner group of supercar experts also goes above and beyond to provide an abundance of knowledge and details on the background, legacy, and capabilities of every model featured in our showroom to interested clients. When combined with the previously mentioned assurance to courteous service and ample inventory, it is clear to see that selecting the most amazing sports car for your driving preferences begins here at our specialty dealership in New York.
If you would like to know why our terrific staff makes the extra effort to familiarize residents in the area with the exciting series of automobiles McLaren produces, the answer is easy to fire off: We really love Ramsey and everything this great borough offers. From hitting a round of 18 at Ramsey Golf and Country Club to making a stop by the historical 1700's farm house that was turned into the local antiques treasure of Old Stone House Museum and spotting wildlife on marked trails at The Celery Farm, a beautiful nature reserve and hidden gem, it is no wonder that the men and women who are proud to distinguish themselves as part of the McLaren North Jersey team also proudly represent the spirit of New York.
Does the thought of visiting our pack of steadfast community members to purchase your brand-new luxury sports car have your adrenaline on the rise? Then, grab hold of your phone and give us a call at 201.639.7750 to start the direct route that leads to owning your dream car from this industry leader.
Introducing the Newest McLaren Models to Earn a Spot in Our Showroom
Your permanent place in the driver's seat of a McLaren is all about the need to feel heightened exhilaration again and again, while arriving at your destination faster than ever. To demonstrate this unmatched brand's pursuit of pushing the limitations of supercars and delivering the ultimate driving experience, take a quick glance at some superb models appearing on our showroom floor:

McLaren 720S Spider
For years, the supercar marketplace has yearned for a performance vehicle that is just as comfortable letting loose on the open road as it is dropping jaws at red carpet affairs. With the release of the 720S Spider, it is safe to say that this automaker has finally achieved the perfect blend of these two worlds – and raised the bar once again for the competition. Whether you are drawn in by the refinement of the interior of the 720S Spider and its ergonomic design (as well as its Retractable Hard Top roof), or you prefer the unmitigated performance that comes with a twin-turbocharged V8 engine that allows for an unbelievable top speed of 212 miles per hour (mph), the fact remains the same: The 720S Spider is a super car without peer.

McLaren 600LT
As the latest chapter in the story of the iconic "Longtail," the 600LT stands as the most powerful and adrenaline-pumping Sports Series offering that is still legal for driving on the streets of New York. Of course, once you start adding in impressive inclusions like a 600 Pferdestärke (PS) and 620 newton-meter (Nm) motor, as well as a lower, more aggressive stance and other performance-driven updates, lighting the asphalt on fire and roaring past the competition with a peak zero to sixty mph time of just 2.9 seconds is all within your grasp once you sit down behind the wheel of a new 600LT from our excellent dealership.

McLaren 570S Spider
Who says you have to trade off premium supercar performance for alluring open-air design? With the 570S Spider on your side, dropping the top to take advantage of a beautiful Ramsey day and burning a little rubber are both well within your reach. Once you add in this class leader's unique dihedral doors, carbon fiber construction, and commitment to performance (which comes in the form of a 3.8-liter (L) all-aluminum twin-turbocharged engine, seven-speed gearbox, and ceramic brakes, among other inclusions), it does not take long to realize that the 570S Spider definitely deserves the attention of any driver here in Ramsey who considers himself or herself a connoisseur of the finer things in life.

McLaren 570GT
Put to rest the notion that you cannot have both comfortable settings and staggering power for longer drives, weekend getaways, or epic excursions. As an elegant powerhouse running on a fierce 3.8-L twin-turbocharged V8 engine, the 570GT merges added comfort and convenience with blazing performance to bring you the ultimate sports car experience. Easily access the extended luggage area through the rear-side tinted glass hatch and open up the panoramic roof to feel the rejuvenating effects of fresh air and enjoy stunning views from above. To top it off, the touring deck trimmed in Nappa or Alcantara leather contains runners and a retaining loop to secure your belongings while you relish taking every curve the long way.
Without question, unparalleled performance and power are intrinsic qualities built within every sports car, coupe, and GT designed by this automaker. After you go through the excitement of purchasing such an impressive vehicle at McLaren North Jersey, you will wish you had made the trip to visit our knowledgeable automotive team in New York sooner. Do not wait any longer to come see us.